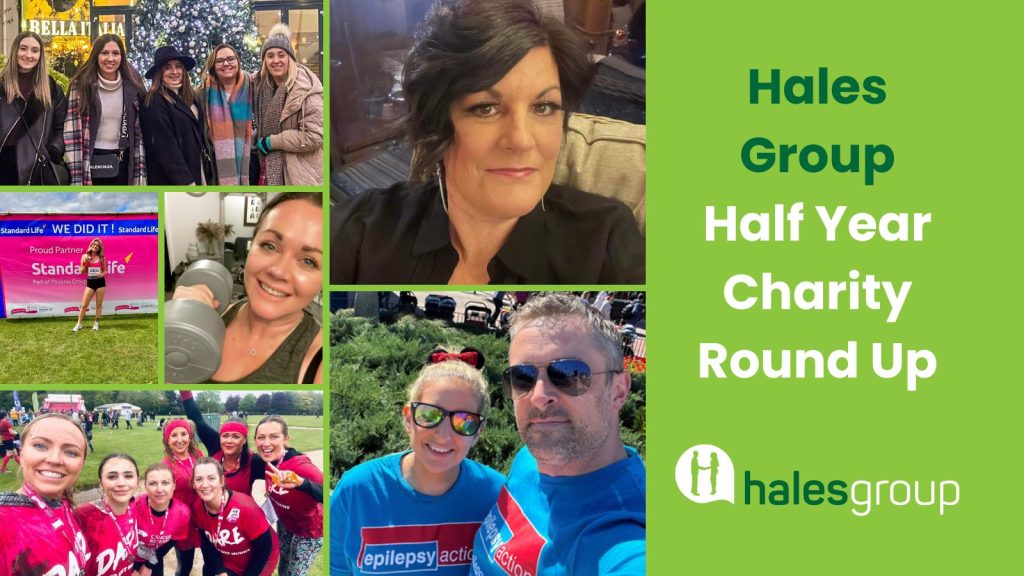 At Hales Group, we are passionate about giving back to the community. Each month, we organise and take part in a diverse range of events including charity bingo sessions, quizzes, runs and walks. This allows us to raise money for important causes and give back to our community.

Our 2023 Charity Round Up: 

January – Hales Letchworth Managing Consultant Emma Eaglen took part in the challenge to 'Move For Mind', she was able to raise £436 for this amazing cause

February – Natalie Price, our Branch Administrator in Letchworth, set out to walk 50 miles in February to raise money for Epilepsy Action and managed to raise £874

March – the team at Bury St Edmunds completed their 11.2 mile 'Girls Night Out' walk to raise money for St Nicholas Hospice, they were able to raise £936

April – Hales Diss Managing Consultant Megan Reeve challenged herself to walk 10,000 steps every day in April and raised £173 for British Heart Foundation

May – Our team participated in Cancer Research UK's Race for Life Pretty Muddy Run in Norwich and raised a staggering £1,388

June – Nicola Mewse, the Managing Director of Hales Group, challenged herself to completing 100 skips a day in June and was able to raise £413 for Cancer Research UK

July – Olivia Wild, a Recruitment Resourcer in Bury St Edmunds, took on the Race for Life 10km and raised £428

In the first six months of 2023 alone, we have been able to raise an impressive £4,235 across a range of charities.

For the month of August, Recruitment Consultant Dylan Walsh has been raising money for his friend Paddy who is battling a brain tumour and cancer. Along with his family and friends, they organised a charity football match on Saturday 29th July and so far, have been able to raise an extraordinary £3,780.

Dylan shared: "It was a wonderful turnout on the day, and the support has been phenomenal. Any further donations would be amazing and highly appreciated."

To learn more about Dylan's fundraising efforts or to donate to this cause, please click here to visit his fundraising page.

Hales Group are committed to working with charities to give something back, and have recently raised money for MIND, Dog's Trust, EACH, Cancer Research, Macmillan Cancer Support, and the British Heart Foundation.

We focus on fundraising efforts that can go towards making a difference to communities and the individuals within them. For more information about our previous charity events, click here.