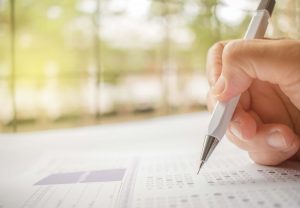 Psychometric Assessments
Psychometric tests use a method that measures the mental capability and behavioural style of an individual. These tests also measure how suitable the candidate is for the job role they are applying for; by measuring a person's aptitude and characteristics against what is required for the role, you will able to forecast how they will perform.
Employers use these tests to draw out hidden characteristics that are notoriously difficult to identify during an interview.
Psychometric tests are objective and are often split into two types; aptitude and personality.
Personality tests explore areas such as your interests, personal values and what motivates you, and analyses how your character would fit in with the company. They ask you a series of situation-based questions that scrutinise your emotions and behaviours, along with relationships based on varying situations.
The test will provide you with a statement about ways of feeling or acting, for which you mark how much you agree with the statement on a scale.
Aptitude tests assess your ability to reason and determine whether your skill set is aligned with the role. Your results are compared to a benchmark, and usually, a certain score must be achieved in order to 'pass' the test. These tests look at your numerical, verbal and abstract reasoning, situational judgement and how effective your response is in varying situations and how quickly and accurately you can error check.
There are varying psychometric tests to sit; you will be provided with a range of statements, which after reading, you will be required to answer a true or false question about. You will also be provided with images that have a pattern or sequence that you need to determine or be asked to look at graphs and charts and analyse and summarise the results that they depict. The most common type of psychometric testing is the Myers Briggs Type Indicator (MBTI) and the Occupational Personality Questionnaire (OPQ).