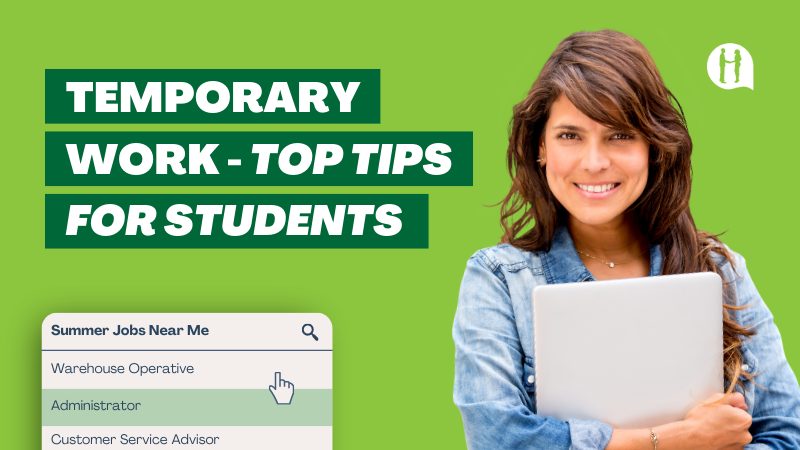 As a student, school leaver or a graduate, looking for your first job can be a bit overwhelming. There are so many opportunities but it can be hard to know where to start. One option that you might not have considered is temporary work – or temping.  

Benefits of temporary work
Temping is a great way to get your foot in the door and gain experience. There are several benefits to temping, especially for school leavers and graduates: 

Flexibility
One of the biggest benefits of temping is the flexibility. As a temp, you are not tied down to a single company or role. Temping can be a great option if you are not sure what you want to do with your career or have other commitments such as studying or caring for a family. It is also a great way to earn extra money to help with the growing cost of living, pay for your next holiday, a new laptop, or save money for the future.  

Variety
Another benefit of temping is the variety. As a temp, you'll work on a variety of long-term or short-term assignments, and in a variety of industries. This can help you to discover your interests and skills, and to build a strong CV. In many cases, a temporary assignment can also lead to a permanent position with the client.  

Experience
Temping is a great way to gain valuable work experience. Even if you are only working on a short-term assignment, you will still be able to learn new skills and gain experience that you can use in your future career. 

Most temporary and seasonal roles do not require previous experience, making them highly accessible to those starting out. So, whether you are a school leaver or fresh from university, temping allows you to jump into the workforce without any worries about not meeting experience requirements. 

Networking
Temping is a great way to network with people in your industry. You will meet new people, learn about different companies, and make professional connections that could help you in your career. 

Pay
Temps are usually paid hourly, which means that you will be paid weekly. 

If you are a student or a recent graduate, consider temping. It is a great way to get your foot in the door and start your career. 

Additional tips when considering temporary work
Do your research – Before you start applying for temp jobs, research different recruitment agencies. Read online reviews and talk to friends and family who have temporary employment experience. Look for accreditations from organisations such as the REC and Investors in People. If a recruitment agency displays an REC logo, it is a sign of quality.

Be prepared to sell yourself – When you're applying for temp jobs, be prepared to sell yourself. Highlight your skills and experience and explain why you're interested in the job.

Be flexible – As a temp, you will need to be prepared to work different hours and be willing to travel.

Be professional – Though you are only working temporarily, it is important to be professional at all times. Dress appropriately, be on time for work, and be respectful of your colleagues.

Why choose Hales?
Hales works with individuals and businesses to find their perfect match when it comes to a long-term career or working partnership. With over 30 years of expertise, Hales is one of the most trusted and reliable recruitment agencies across East of England and the Home Counties. 

More than just recruitment
Our #morethanjustrecruitment slogan emphasises our commitment to providing comprehensive support to job seekers and employers beyond simply connecting them. By adopting this slogan, we set ourselves apart from other recruitment agencies, and demonstrate the additional value we can offer to those seeking employment or recruiting new staff. 

Ready to start temping? Register with Hales today! Click here to view our latest vacancies or contact your local branch here >>