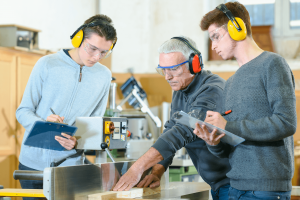 Learn while you earn.
An apprentice is an employee, in a real job for a real employer. One of the great things about being an apprentice is that you get paid to learn. The minimum salary as an apprentice is £2.73 per hour, but many apprentice employers pay more than the minimum.
Gain an accredited qualification.
Doing an apprenticeship is a great way of gaining an accredited qualification. Depending on the level and type of apprenticeship that you do, you can gain anything from the equivalent of 5 GCSE passes at grades A* to C, all the way up to the equivalent of a master's degree.
Gain hands on, job specific skills.
As an apprentice, the majority of your learning is done on the job. If you're an experiential learner (someone who prefers to learn by doing), an apprenticeship will be ideal for you. By learning on the job you'll also gain loads of job specific skills. Many young people or recent graduates struggle to find work as they don't have the necessary experience. Apprentices never have that issue as they have learnt in a real world environment and gained the skills necessary to do a real job.
Build a prolific CV.
Being an apprentice allows you to build an impressive CV while you learn these new skills. Once you've completed your apprenticeship you'll have loads of examples of specific tasks that you've done in your role, along with a recognised qualification, and references that can vouch for your work.
Apprentices are highly employable.
When it comes to employability, the statistics speak for themselves. 90% of apprentices stay in employment after their apprenticeship, and 71% of those stay with their apprentice employer after completion. In these uncertain times, apprenticeships are a pretty safe bet for developing a stable career.
Avoid university debt.
On average, a typical student on a three-year course outside London might expect to graduate with around £35,000 – £40,000 of student loans. Apprentices, on the other hand, don't have to start their career in piles of debt, and they actually gain a wage whilst learning.
Get a head start with your career.
Many university students graduate at 21. By that age, if an apprentice started at 16, they could have a completed a minimum of 1-2 years of training and may have been in a full-time qualified role for 2-3 years. That's a hefty career head start in comparison with a graduate that leaves with a substantial debt and little or no on the job experience!
What is it like to do an apprenticeship?
As an apprentice, you'll work at least 30 hours a week whilst earning a wage and your apprenticeship will last anywhere between 1-5 years depending on the level of apprenticeship and sector. The important thing to remember is that apprentices do a real job in a real workplace, and as such, you'll have real responsibilities. Your colleagues and employer will be relying on you to do a quality job, and you'll receive regular feedback on your performance.
Every apprenticeship role differs enormously but you can expect your day to be both varied and challenging. As well as practical training on the job, the majority of apprentices receive off-site training. Your off-site learning will give you new skills which you'll put into practice in the work environment. On completion, you should feel skilled and competent in your particular job role and be ready to take on the next stage of your career development.
For more career tips and advice follow us on twitter @HalesJobs. To register with Hales, and for a full list of our latest vacancies visit our website halesjobs.co.uk.